Anchor sells a wide selection of backup camera systems. You can create your own custom system by choosing from a variety of monitors and cameras. Professional installation is available on all backup camera systems.
Monitor Options 

There are two types of monitors to choose from, a dash-mounted monitor or a rear-view mirror monitor. For the dash-mounted option, the 5-inch monitor is a good choice for normal-sized vehicles, where the 7-inch monitor is a good choice for larger commercial vehicles. Both dash-mounted monitors have high quality LED displays, distance grid lines that can be toggled on or off, back-lit buttons that illuminate in the dark for easy use and are equipped with auto-dimming capabilities.
The rear-view mirror option can be used in all vehicles with a standard rear-view mirror. A monitor that completely replaces your existing rear-view mirror can be used, or if you wish to keep your existing mirror, a clip-on style rear-view mirror monitor can be used instead. The replacement mirror monitor can still be used as a rear-view mirror because of its reflective surface. When the vehicle is put in reverse, a 4.3 inch LCD monitor appears on the left side of the mirror and the monitor also has distance grid lines that can be toggled on or off. This monitor can also be ordered with auto-dimming and OnStar capabilities. This option gives a clean OEM look while giving you the functionality you need. The clip-on mirror monitor simply clips over your factory rear view mirror using pressurized clips. It has a 7″ LCD display and distance grid lines that can be toggled on or off. This is a good option if you want a bigger monitor, but don't want to remove your factory mirror or take up too much room on your dash with a dash-mounted monitor.
Camera Options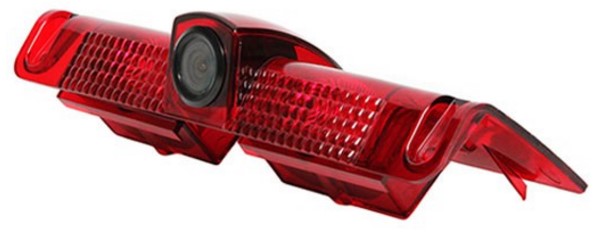 There is also a wide variety of cameras to choose from, so you can pick the camera that best fits your needs. The commercial-grade camera can be mounted on a flat surface and features a high-quality picture, a durable metal casing, an adjustable sunshade, infra-red lights to help you see at night, an IP69K rating meaning the camera is extremely well protected against dust and harsh weather, and a 130-degree viewing angle. The surface mount camera features a compact cube design that is less than an inch long and deep, a high-quality picture, an IP68 rating meaning it is highly protected against dust and harsh weather, and a 170-degree viewing angle. The license plate mounted camera utilizes the holes in your license plate for a simple mounting solution and features a high-quality picture, an IP68 rating, a swivel camera, and a 170-degree viewing angle.
There are also many specialty cameras to choose from that offer OEM styling and similar ratings and specifications as the other cameras. These include the tailgate handle replacement cameras as well as the third brake light cameras made for commercial vans. Whether you are looking for a camera system just to help with backing-up or to help with towing and hooking up to your trailer, these systems are good solutions.
Hopkins Backup Camera System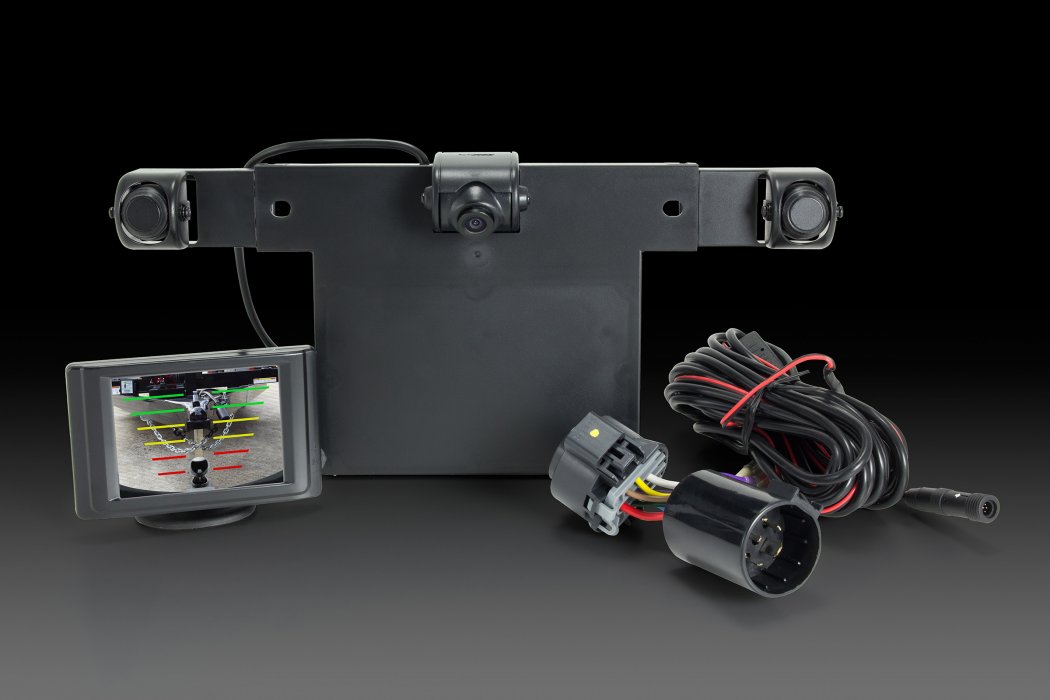 Here at Anchor, we also offer the Hopkins Smart Hitch Backup Camera and Sensor System. This system features a 3″ monitor, back up sensors, distance grid lines, and can incorporate with your OEM factory 7-way plug. It is a budget-friendly system that is a good option if you have a factory 7-way plug on your vehicle. Stop by Anchor today and talk with a salesman about which of these options will best fit your needs!
Backup Sensor System 
Anchor also sells and installs backup sensor systems. These systems work with almost any vehicle and include four sensors that are mounted into your vehicle's rear bumper. It is an independent system and has a speaker which will give an audible beep when the system senses an obstacle. The closer you get to the obstacle the faster the speaker will beep. Visit us today to see about getting one installed on your vehicle!