Here at Anchor Truck Accessories, we sell and service a wide variety of trailers including utility, landscape, enclosed, car haulers, flatbeds, equipment haulers, tilt decks, gooseneck trailers, and dump trailers. We have a large lot dedicated to trailers and we try to keep a wide selection of trailers in stock. Come by today and see how we can meet your hauling needs!
Utility and Landscape Trailers 
For our utility and landscape trailers, we carry the Quality brand. All of these trailers will come with a heavy-duty wooden deck, heavy-duty side railing, a spare tire holder on the front, a step pad on the fenders, metal-encased tail-lights, EZ lube hubs, and a spring-assisted ramp gate that can easily be opened and closed with little effort. Single axel trailers come standard with 15″ wheels and a 3,500lb axle. Double axle trailers can have from 7,000 G.V.W.R. up to 14,000 G.V.W.R. and have electric brakes on both axles. Trailers can also come with or without 16″ mesh sides. Come see us today for pricing and details!
Enclosed Trailers 
For enclosed trailers, we sell and service Homesteader. These trailers come in a wide variety of styles, colors, G.V.W.R., and sizes from 5'X8′ and up. Various options include a round nose, V nose, single color option, two-tone color option, extra interior height, interior tie-downs, a rock guard, a side access door, double swing doors on the rear, a ramp gate on the rear, LED lights, EZ lube hubs, and much more. We stock a variety of these enclosed trailers on our trailer lot, so come take a look for yourself!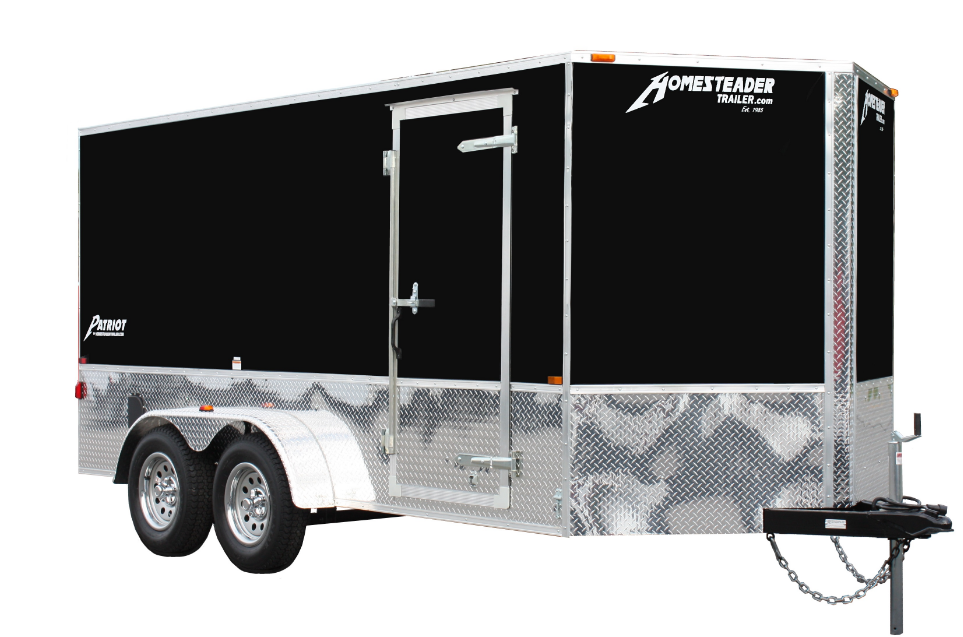 Car Haulers  
We sell and service Quality car haulers. The car haulers come with a steel diamond floor deck, beveled front corners, rubber mounted lights, a swing-up top wind jack, D-rings, dual axles, EZ lube hubs, electric brakes on both axles, and a dovetail with slide-in ramps. They are available in 8.5'X17′ with 7,000 G.V.W.R. up to 8.5'X21′ with 10,000 G.V.W.R.
These car haulers are also available as a hydraulic tilt deck trailer. Wooden Tilt deck trailers are available in many sizes and G.V.W.R. as well. Stop by Anchor today and check out these car haulers for yourself!

Flatbed, Equipment, and Dump Trailers 
We sell and service Quality flatbed, equipment, and dump trailers. The flatbed and equipment trailers are available as a tag-along, pintle mount, or gooseneck with many different styles including drop deck, deck over, steel deck, wooden deck, and tilt deck. For the tilt deck trailers either the whole deck can tilt, or a portion of the deck can tilt while the other portion stays stationary.
Quality dump trailers are available in various sizes and G.V.W.R. These dump trailers come with ramps, radial tires, tie-downs, and LED lights, EZ lube hubs, and power up and down. An optional roll-up tarp kit can also be added at an additional cost. We can also order Homesteader dump trailers which can come as a tag-along or gooseneck, so come by today for prices and see what we have to offer!